Garden Author coming to Halifax County-South Boston Museum
     There is poetry in gardening.  Each day, we watchpetals open to the sun, hummingbirds probing for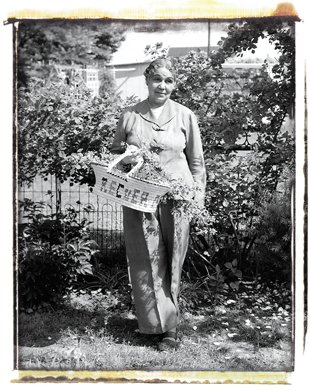 sweet juices, the blush rising on a tomato and we file these images away in memory, maybe in a garden journal.  Anne Bethel Spencer (1882 - 1975) often put the love of her garden into words, caught on scraps of paper scattered around her house.  Eventually these scraps and her remarkable story were captured in a book, Lessons Learned from a Poet's Garden.
     As part of the Master Gardener Fall Garden Forum on August 2nd, author Jane Baber White will discuss her book, which details the 28-year restoration of Anne Spencer's Lynchburg home and gardens.  Anne's husband, Edward, built her a lovely small house out in the garden and together they named the sanctuary Edankraal ("Ed" for Edward, "an" for Anne and "kraal," an African word meaning "place").  Anne then went to work planting many exotic varieties of flowers and crafting garden-themed metaphors.  Her works inspired other writers and gardeners, especially during the years of the Harlem Renaissance.  Her gardens continue to inspire poets and gardeners today.
     Anne developed her way wwith words at an early age.  She graduated from the Virginia Seminary in 1899 and married in 1901.  Always a strong, independent thinker who advocated equality and education for everyone, she gravitated toward people like herself.  She became involved in her community and in the early NAACP and welcomed many notable people of the era to her home, including Langston Hughes, Marian Anderson, George Washington Carver, Thurgood Marshall, W.E.B. Dubois and Dr. Martin Luther King, Jr.  The Spencer property is now listed on the National Register of Historic Places.
     Jane Baber White is also a life-long resident of Lynchburg and shares Anne's love of gardens.  Her book draws on the steps that she and the members of the Hillside Garden Club took over almost three decades to restore the Spencer garden.  Along with her garden club, White discovered links between Randolph (Macon) College and the Spencers.  White served as Director for the Old City Cemetery for 27 years and has been active in many other restoration projects.  She is also the author of Once Upon a Time...A Cemetery Story and The Book of Attributes for the Living Horticultural Collections of the Old City Cemetery Museums and Arboretum, Lynchburg, Virginia.
     An exhibit on Lessons Learned from a Poet's Garden and Anne Spencer will be on loan from Lynchburg to our county Museum.  This exhibit will be open September 11th through November 2nd.  Museum hours are 10 a.m. to 4 p.m.
     The November 2nd Garden Forum is scheduled for 9 am to 1 pm.  The first presenter is Kevin Conrad, speaking on the preservation of rare plants and an overview of the National Arboretum in Washington, DC.  Jane Baber White is our second forum speaker.  Ms. White will discuss the life, house and gardens of Anne Spencer and sign copies of Lessons Learned from a Poet's Garden, which will be available for $45.  To register for the Forum, call (434) 476-2147 or e-mail This email address is being protected from spambots. You need JavaScript enabled to view it..