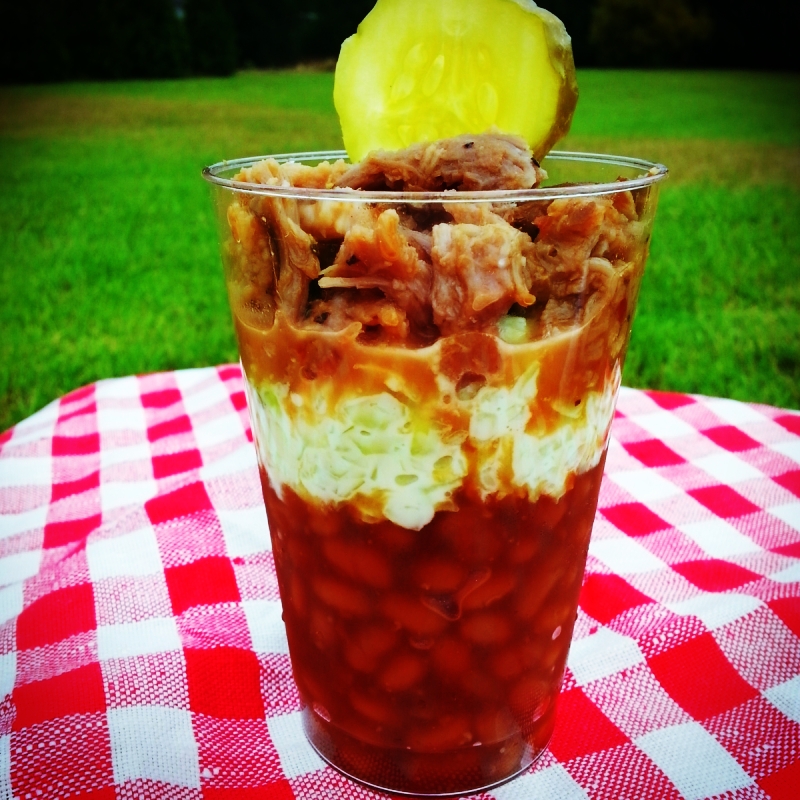 Halifax Events kicks off the summer at the Farmer's Market in the Town of Halifax on Friday June 14th from 6-11pm with a great night of Blues, Brews and BBQ.  Music from the legendary Steve Bassett Blues Band (co-author of "Sweet Virginia Breeze") and Halifax's own Hot Damn! Band will fill the air along with the aroma of the finest BBQ around.
This Friday marks the debut of the Blue Flame Barbeque Sundae at the "Blues, Brews & BBQ".  It's barbeque like you've never seen it before.  No muss, no fuss, just sweet and spicy signature barbeque beans layered with fresh creamy homemade coleslaw and topped with succulent hand pulled smoked pork.  Just one of the many taste bud adventures that include smoked beef brisket and the tried and true hand pulled barbeque sandwich provided by Whitey Roark & Mark Dickerson's Blue Flame Barbeque.
There will be more of Halifax County's finest BBQ vendors on hand:  "Smokin' Jakes" will be offering free tastings of pulled pork BBQ, their original in house BBQ sauces and mascot "Lucky" will make his debut from 6pm till 7pm.  Eddie Tate "Tater Bug's Bar-B-Que" will be grilling onsite featuring his award winning dry rubbed fresh smoked pork, St. Louis style pork ribs, BBQ chicken and beef briskets.  "Ollies" will be featuring their awesome bone sucking ribs, pulled pork BBQ and chicken.  All vendors will offer a variety of sides to complete your dinner plate.
A great selection of wine and beer will be available from Bright Meadows Vineyards and Blue Ridge Beverage.  Iced tea, water and sodas will also be available.
No parking in Farmers Market parking lot - Handicap parking only will be available (first come, first served) along with a drop off area for the general public.  Parking will be available along S. Main Street and adjacent parking areas.  Tickets ar $15 in advance, $20 at the gate - Available at the Halifax Town Office (along with T-shirts), Peddler's Market Exchange Store, Common Grounds, Halifax Tourism Visitor Center, Molasses Grill and Bistro 1888.
Come join us in the Town of Halifax to eat, drink and dance in the "Sweet Virginia Breeze".  Bring your lawn chair, your appetite and dancing shoes for a great night of "Blues, Brews & BBQ."